GERLINDE HARB, PhD.
Practice Locations: Teletherapy, Teletherapy for German Speakers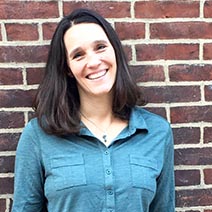 Dr. Harb is a licensed clinical psychologist helping individuals and couples with a range of life difficulties. Her approach is grounded in principles of cognitive-behavioral therapy as well as a deep understanding of the evidence base for a variety of techniques which she integrates into her practice. Dr. Harb is experienced in treating anxiety and depression as well as helping clients thrive in the face of life stressors such as medical treatments or interpersonal difficulties. She specializes in treating clients with insomnia and sleep problems, posttraumatic stress, as well as women in cancer treatments. In addition, Dr. Harb is experienced in psychological assessment, in particular documenting clinical symptoms of individuals for asylum evaluations.
Her 10 years of experience with veterans with posttraumatic difficulties at the VA Medical Center have given her an appreciation of creating genuine therapeutic partnerships with her clients, which help facilitate understanding and positive change. Dr. Harb's approach to therapy is goal-oriented and flexible, personalized to the specific needs of her clients. She is always focused on helping her clients gain skills and understanding to successfully overcome their current and future life stresses.
Dr. Harb is an adjunct faculty member at Philadelphia College of Osteopathic Medicine and has presented her clinical and research work at international conferences and published articles in a number of scientific peer-reviewed journals.
Education:
Ph.D. Temple University, Clinical Psychology
Philadelphia College of Osteopathic Medicine, pre-doctoral internship
M.A. Temple University, Clinical Psychology
M.S. Eastern Kentucky University, Clinical Psychology
B.A. University of Kentucky, Psychology
B.A. University of Vienna, Austria, Psychology
License and Specialized Trainings:
Licensed psychologist, Pennsylvania
Extended training in:
Cognitive-behavioral therapy principles
Cognitive-behavioral Therapy for Insomnia
Imagery Rehearsal therapy for nightmares
Psychological Interventions for Women with Gynecological Cancer
Prolonged Exposure therapy for PTSD
Seeking Safety therapy for PTSD
Rational Emotive Behavior Therapy
Professional Activities and Memberships:
Member, American Psychological Association
Member, International Society for Traumatic Stress Studies
Member, Philadelphia Behavior Therapy Association
We are committed to your privacy. Do not include confidential or private information regarding your health condition in this form or any other form found on this website.This form is for general questions or messages to the practitioner.
Office Hours
| | |
| --- | --- |
| MONDAY: | 9:00 am-9:00 pm |
| TUESDAY: | 9:00 am-9:00 pm |
| WEDNESDAY: | 9:00 am-9:00 pm |
| THURSDAY: | 9:00 am-9:00 pm |
| FRIDAY: | 9:00 am-9:00 pm |
| SATURDAY: | 9:00 am-5:00 pm |
| SUNDAY: | 9:00 am-2:00 pm |