Erin O'Brien Garcia,
M.S.W., L.C.S.W.
Practice Locations: Teletherapy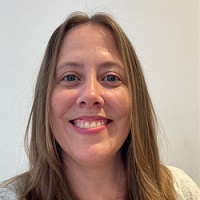 Ms. O'Brien Garcia is a licensed clinical social worker.  Working in the mental health field for more than thirteen years, she can assist with managing stress, anxiety, depression, trauma, and grief.  With training in Recovery-oriented Cognitive Therapy, Cognitive Behavioral Therapy, Mindfulness, Narrative Therapy, and couples counseling, she uses a strengths-based orientation to support you in addressing your challenges and achieving your goals.
Ms. O'Brien Garcia's primary experience has centered around working with adults with serious mental health challenges, in addition to children and families at a community mental health center and front line staff members during the COVID-19 pandemic.  She brings a compassionate presence and meets you wherever you are in your journey to help you get where you want to be.
Education:
Saint Joseph's University, B.A. (English)
University of Pennsylvania, M.S.W. (Clinical Social Work)
License:
Clinical Social Worker, Pennsylvania
We are committed to your privacy. Do not include confidential or private information regarding your health condition in this form or any other form found on this website.This form is for general questions or messages to the practitioner.
Office Hours
| | |
| --- | --- |
| MONDAY: | 9:00 am-9:00 pm |
| TUESDAY: | 9:00 am-9:00 pm |
| WEDNESDAY: | 9:00 am-9:00 pm |
| THURSDAY: | 9:00 am-9:00 pm |
| FRIDAY: | 9:00 am-9:00 pm |
| SATURDAY: | 9:00 am-5:00 pm |
| SUNDAY: | 9:00 am-2:00 pm |