John P. Fraunces, Ed. D.
Practice Locations: Media, Pa.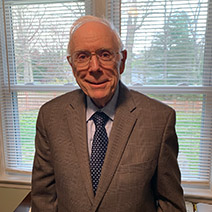 Dr. Fraunces is an Educational Psychologist who specializes in the Evaluation,
Counseling, and Training of Public Safety Personnel including Police, Fire, Sheriffs
and Correction Officers.
He is the retired Police Psychologist of the Philadelphia Police Department.
He also retired from the Pennsylvania Department of Corrections, and he has
Worked for the Delaware County Correctional Facility.
The Services provided by Dr. Fraunces:
Pre-Employment Psychological Evaluation of Police Academy applicants.
Pre-Employment Psychological Evaluation for Police, Fire, D/Sheriffs and Correctional Personnel and evaluation for SERT Members.
Post Shooting and Traumatic Event Counseling, both individual and group, for Public Safety Personnel.
Fitness-for-Duty Evaluation
Addiction Counseling: (alcohol and prescription medications)
EDUCATION: Ed. D. Temple University, Educational Psychology
M.A. St. Joseph's College, Education
B.A. St. Joseph's College, Psychology
MILITARY SERVICE:
United States Air Force, 1st Lt, Air Police
LICENSE CERTIFICATIONS:
Licensed Psychologist
CERTIFICATIONS:
Instructor in General Subjects under ACT #120
Consultant to the Pennsylvania State Police for the initial ACT #120 Curriculum
and for their members Assistant Program.
OFFICE HOURS:
Monday 10:30 – 1:00 PM
Wednesday 10:30 – 1:00 PM
Friday 10:30 -1:00 PM
We are committed to your privacy. Do not include confidential or private information regarding your health condition in this form or any other form found on this website.This form is for general questions or messages to the practitioner.
Office Hours
| | |
| --- | --- |
| MONDAY: | 9:00 am-9:00 pm |
| TUESDAY: | 9:00 am-9:00 pm |
| WEDNESDAY: | 9:00 am-9:00 pm |
| THURSDAY: | 9:00 am-9:00 pm |
| FRIDAY: | 9:00 am-9:00 pm |
| SATURDAY: | 9:00 am-5:00 pm |
| SUNDAY: | 9:00 am-2:00 pm |